Let's talk Smoke Alarms...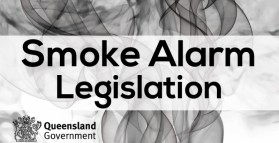 Perhaps its time we talk about Smoke Alarms. With the looming deadline for landlords and prospective sellers to have smoke alarms up to standard to meet legislative requirements, now is the time to begin taking action in order to beat the last-minute rush.
Under the new laws, dwellings (houses, units, etc) in Queensland which do not meet the new requirements, will not be able to be sold or leased after January 1, 2022. To put that into perspective, from this point, roughly 800 rental properties a day across Queensland will need to be upgraded to beat the upcoming deadline.
To briefly summarise the legislation, each dwelling will require every bedroom, and any hallway that connects a bedroom with the rest of the dwelling, to be fitted with a Photoelectric Smoke alarm. There also must be at least one smoke alarm fitted to each storey of a house. All alarms must be interconnected. They will also need to be hardwired to the property's' 240-volt electrical supply or powered by a 10-year Lithium battery.
Whilst we are only discussing the target date for landlords and prospective sellers at the moment, please keep in mind, the new legislation will eventually affect everyone.
The legislation timeframe, announced in 2016, was set to roll out over a 10-year period beginning January 2017;
For any new homes built or any significantly renovated dwellings, the legislation has already been in effect since 1st January 2017.

For anyone leasing a home (a landlord) or selling a home, the legislation will come into effect from 1st January 2022.

All owner-occupied dwellings will need to meet compliance by 1st January 2027.

ALL smoke alarms replaced in any dwelling after 1st January 2017 must be photoelectric alarms.

Will you meet the new requirements in time?

The team at Electrical Continuity Group are ready to help - To further discuss your needs, for a quote or to schedule your smoke alarm installation, please contact us on 3870 8446.
Tags: Smoke Alarms Landlord Queensland Legislation Smoke Alarm Legislation Photoelectric Smoke Alarm